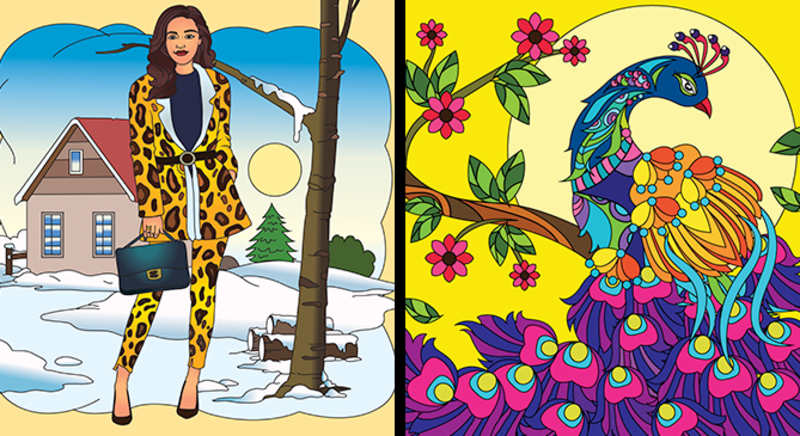 5 Reasons to Install the Stress Relief Adult Color Book App on Your Phone Today
Chasing your dreams and following your passion can be intensely rewarding. Building the career of your dreams and reaching for your goals, one step at a time, can make you feel accomplished and fulfilled, filling you with a sense of pride. The catch? It can also be intensely challenging and stressful.
Nothing worth having is easy to get, and this is as true for a career as for life in general. However, being able to deal effectively with stress and anxiety, without getting burned out, is one of the major requirements of professional success in the longterm.
After all, it's not a dream job if it doesn't push you to your limits and allow you to expand your horizons. But to handle such a high-stakes position on a day-to-day basis, you will need to have in place effective stress management strategies and relaxation techniques, in order to protect your mental health and keep yourself from burning out.
Why Use the Stress Relief Adult Color Book App?
This is where downloading the Stress Relief Adult Color Book App can be immensely helpful. This app will help you unwind and relax at the end of a hectic day and get back in touch with your youthful and creative self.
Dealing with the real world can often be hard and exhausting, and 'adulting' isn't always fun or easy. However, these are things we all need to do in order to achieve our most cherished dream. Yet, all is not lost. You can always use the Stress Relief Adult Color Book App to refill your creative well at the end of the day and get back in touch with your dreams.
So, how can a simple color book app help you achieve mental equilibrium and resistance to stress? Let me explain.
5 Ways in Which the Stress Relief Adult Color Book App Can Help You Keep Anxiety at Bay
1. Creativity Helps You Relax
Prominent psychologists such as Carl Jung and Gloria Martinez believed that the act of coloring mitigates the activity in the amygdala. The amygdala is the part of the brain that is primarily responsible for feelings of stress, anxiety, and worry. In other words, when coloring, we tend to focus on the simple act of creativity rather than thinking about the things that cause us to feel fear or anxiety.
2. Activates Both Hemispheres of the Brain
The act of coloring activates or stimulates various regions in both the left and right hemispheres of our brain. This is because it is an activity that requires both analysis and creativity, at different points of time. Moreover, to effectively color a picture, you need to use the parts of the cerebral cortex that facilitate fine motor skills as well as vision and eyesight. All this helps keep your brain sharp and alert, preventing you from feeling overwhelmed or exhausted at the end of the workday.
3. Portable Relaxation
Despite the many benefits of coloring, it may not always be possible for you to carry an actual coloring book with you. Moreover, you would also need to always carry crayons or color pencils, which are liable to get damaged in transit, especially if you have to travel frequently for work. Hence, installing the Stress Relief Adult Color Book App in your smartphone is the perfect solution. You can use it to rejuvenate and refresh yourself any time you're feeling tired, stressed, or overwhelmed.
4. Facilitates Social Bonding
Coloring is not only an effective way to get rid of stress but also to bond with children and peers. If you are a parent, installing the Stress Relief Adult Color Book App will help you bond with your kids and spend quality time with them, engaged in an activity that you both love. Even among adults, the activity of coloring is gaining popularity with every passing day and there are many clubs and events dedicated to this hobby.
After a long workday, you may feel too tired to run around the yard and play with the kids, but that doesn't mean you can't spend a wonderful evening with them. And a coloring book app will help you do just that!
5. Coloring is Therapeutic
Having the Stress Relief Adult Color Book App on your phone will also help you deal with stressful situations in your day-to-day life in a calm and effective manner. Had a bad day at work, an altercation with a co-worker, or just a nasty encounter on public transport? You can always pull out your phone and take a few moments to sink yourself into the simple, enjoyable task of coloring.
Cut out the outside world entirely until you have calmed down and feel ready to deal with it again. This can be especially useful for those who are prone to feeling anxious or overwhelmed in social situations or during times of conflict. Taking some time to calm down and react rationally to any situation can save you a lot of trouble in the long term.
In Conclusion
Mentioned above are some of the ways in which you can use the Stress Relief Adult Color Book App to avoid stress and achieve your goals. Over the years, this app has helped thousands of people get their anxiety under control and build the life they have always dreamed of!